FBackup
FBackup hace copias de seguridad de archivos. Gratis.
About FBackup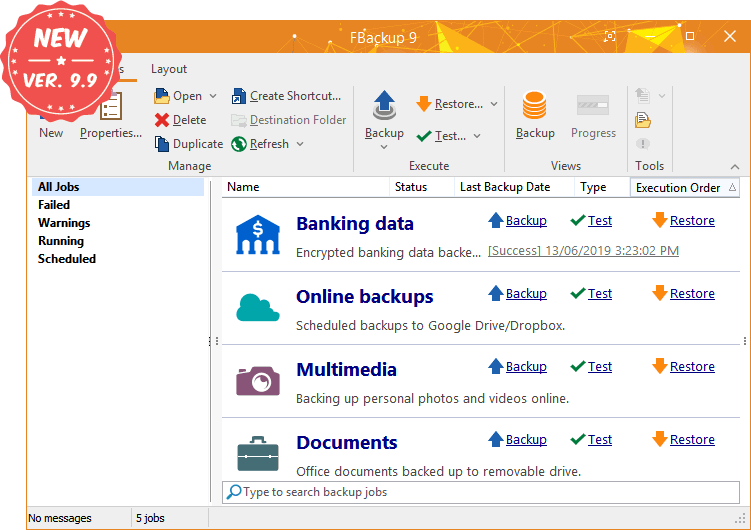 FBackup tiene una interfaz sencilla y lo guía a través del proceso de definir tareas de respaldo usando un asistente amistoso que le hace preguntas:
Dónde desea guardar la copia de seguridad (destino).
Qué desea respaldar (fuente).
Cómo desea hacer la copia de seguridad (usando copia de seguridad completa que comprime (zip) los archivos, o copia de seguridad espejo, que no los comprime).
Cuándo desea hacer el respaldo (Usted puede programar respaldo automático o manual).
Cuando se define una tarea de respaldo, usted puede iniciarla manualmente presionando el botón Backup (ó F6) ó, si usted la programó, ésta se realizará automáticamente. FBackup puede fácilmente hacer copias de seguridad de fuentes tales como dispositivos locales (incluyendo los que tienen conexión USB), a destinos tales como dispositivos conectados a USB/Firewire, o a locaciones de redes mapeadas. Se crean archivos zip standard (cuando se usa el tipo de respaldo completo), o copias exactas de las fuentes originales sin compresión (usando el respaldo de tipo espejo).
Read More
Screenshots
Principales aspectos
What makes FBackup stand from the crowd
Es gratis para uso personal y comercial
FBackup es un software gratis para copias de seguridad para uso comercial y personal. Usted puede ahorrar dinero al no tener que comprar otro programa de respaldo.
Respaldo automático
Usted define una tarea de respaldo, selecciona su realización automática, y se olvida de ella. FBackup hará automáticamente el respaldo a la hora prefijada; así, usted tiene el beneficio no sólo del respaldo, sino que también ahorra su valioso tiempo.
Haga copias de seguridad con compresión zip standard
Al usar el respaldo completo, las fuentes serán archivadas usando compresión zip standard. FBackup usa compresión ZIP64, y puede crear archvos zip mayores de 2GB. Más aún, usted puede proteger el archivo zip de modo que requiera una palabra clave para extraer los datos.
Testimonials
What our users say about FBackup
I've tried many backup applications over the years. Cobian, Comodo to name a couple. Though those are very good, freeware solutions. I must admit that after trying FBackup, this one is the best I've ever used. It is also very powerful and unique as far as backup software is concerned.
DarrenWalker (Fileforum)
Very useful piece of software for any user. Simple to use and easily backups your files and protects from corruption. I recommend this to anybody looking for a simple and easy to use software for backing up their important files. It's free so it means you don't pay for anything.
Raidenzxz (Download.com)
Have used this software both for back up and more importantly for restore. It worked as advertised. It was simple and worked well. It has saved me now twice when a bad motherboard took out the hard drives in raid mirror setup. I like the better package now due to the greater range of ability.
Breebree (Fileforum)
Easy to use and able to specify just what is to be backed up. I have it set up to do 7 different jobs, Videos, Documents, Music, Desktop, Outlook and Photos. Options of "zip, mirror and full" backup formats provide flexibility when capacity constraints are a factor.
HjHarris (Download.com)
A complete, easy to use, reliable and versatile backup application at last. I was impressed by FBackup after trying (and uninstalling) so many others. FBackup does all the things I want to be done, so it's here to stay. Recommended!
Nicholas (Fileforum)
Amazingly full-featured for a free program. Broad capabilities, including all the 'standard' backup options, but with many more features that the competition holds out for paid upgrades only. It took awhile to find FBackup among all the tools out there, but it was worth the extra searching.
Kfitzharr (Download.com)
Tutorials
Watch videos that show FBackup in action
We're Softland
Learn more about the company that makes FBackup
About Us
Softland is a company founded in 1999, committed to providing quality software by using innovative development solutions. We always put the needs of our customers first and that's why we value our users' feedback.
About Us
Contact Us
Contact us with any questions/suggestions you might have regarding FBackup. If you are experiencing errors with FBackup, we recommend checking first if there isn't already an answer here: FAQ / User Forum
Get in touch
Our Products
The products we develop and maintain target two different fields: file backup (Backup4all and FBackup) and PDF creation (novaPDF and doPDF). Since 2011 we also run Soft112, a software download library.
Products
FBackup in numbers
FBackup is continuously developed since 2006
FBackup
Download & Rate FBackup